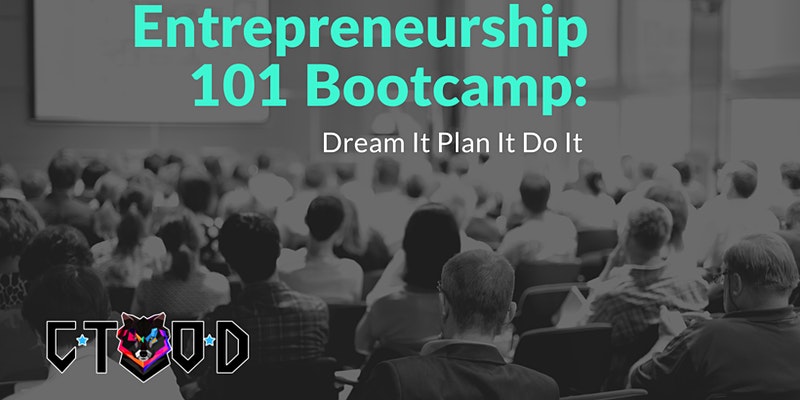 Entrepreneurship 101 Bootcamp is a workshop designed to give you the tools you need to have a business that generates you income.
Hosted by: Closer To Our Dreams LLC and Small Biz Development Group...and Special Guests:
Dovev Weaver (Coach D) Business & Marketing Consultant & Author - Host
Alexis Quintal - Marketing Maven
Christian Cousin - The Video Guy
Joey Lowery - SEO Expert - Behavioral marketing
Zack Larson - Co-Founder - Small Biz Development Group
Joe Tapper - Founder - Small Biz Development Group
Where you leave with a clear vision on how to move forward in your business.
Who should attend?
Entrepreneurship 101 Bootcamp is an in depth workshop, held at various locations. It is suitable for new and seasoned entrepreneurs that want to learn some strategies to take their business to the next level.
Seats are LIMITED, so we advise reserving your spot as early as possible.
If you are looking for a workshop that will give you the tools and strategies you need to run a successful business, you have come to the right place. We don't focus on little problems, we focus on finding solutions. If you want to have your best year yet in business, come to Entrepreneurship Bootcamp 101.
Entrepreneurship 101 Bootcamp will allow you to take a close look at what you are currently doing and see if you can make any adjustments, guide you clearly through the essential goal setting and dreaming phase of your business, and help you create a game-plan for immediate implementation.
There is no fluff when you come to Entrepreneurship 101 Bootcamp. We give you strategies that can be used the second you leave the event.
What do we cover?
1) Business Development - this is important because if you don't develop a business model that can be scaled you have essentially created another job for yourself. The sooner you can figure out how to systemize your business the sooner your business will run without you.
2) Marketing/Branding - this is essential to being able to make sure your products and services are ready for the masses. The worst thing you could do is market your business to the wrong people. Now you have wasted time and money.
3) The Importance of Video - if you pay attention to some of the biggest businesses or brands in the community you will realize that they never release something that is not highly produced. As a business owner the way you show up to someone shows how much you care about your brand. Learn from someone that has been in the industry over a decade and can show you what to do and what not to do.
4) Coming up first on Google - it would be great to have your brand or business show up on the first page of Google without any paid ads but that doesn't happen overnight. You have to focus on doing the things the search engine's want before you could even be shown to the right ideal client. Learn what to do and what not to do.
5) Can your business qualify for Government Contracting - what if your business could qualify for Government contracts? Would you get excited about your business? Most businesses don't understand there is a process to make sure your business even has a chance. Learn exactly what the government is looking for before they book a client.
It is great to have a business, you can literally design the life you want to have by incorporating the tools and strategies we will be covering. What separates our workshop from others is that we will share with you ways to take action in your respective industries so that you can start having success in your field.
Speak Your Mind:
This workshop places a large emphasis on interaction. You'll have the opportunity to pose questions in a Q&A segment which will conclude the Entrepreneurship 101 Bootcamp.
Other takeaways from the day:
1. Network with other business owners
2. Learn new skills to apply to your business
3. Gain access to the resources that may not be available otherwise
and much more